TONY CRAGG, ANETTE FLENSBURG, ANNE-KARIN FURUNES, LUCY GLENDINNING, ANTONY GORMLEY, JAN HÅFSTRÖM, SEAN HENRY, META ISÆUS-BERLIN, ASSA KAUPPI, KATRIN KORFMANN, BERND KOBERLING, IAN MCKEEVER, ALYSON SHOTZ, GABI TRINKAUS, TATJANA VALSANG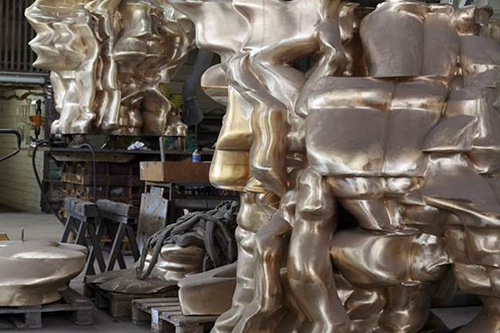 Tony Cragg,"Mean Average", 2014
TONY GRAGG
The great outdoor sculpture "Mean Average" will be presented this summer at the Remigiusplatz in Bonn, Germany by The foundation for Art and Culture in Bonn. Opening ceremony Friday June 20. The artist will be present. June 20 - September 30, 2014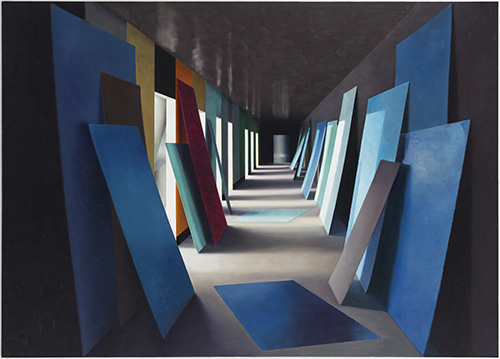 Anette Flensburg, "Building up a passage", 2014, oil on canvas, 180x250 cm
ANETTE FLENSBURG
Sunday June 15 is the last chance to see Anette Flensburg's acclaimed solo exhibition "The light, the wind, the paper" at our gallery in Stockholm, Sweden.
Read more
Anette Flensburg is represented in KUNSTEN – Museum of Modern Art Aalborg's collection of contemporary art. A major presentation of the collection will be on view at Brandts Museum in Odense. August 22 - April 26, 2015.
Read more

Solo exhibition, Galerie Møller Witt, Aarhus, Denmark. August 22 - October 4, 2014
Read more
Anne-Karin Furunes, "Freedom Fighters XI", 2014, acrylic paint on canvas, perforated, 196 x 324 cm
ANNE-KARIN FURUNES
Solo exhibition at Millesgården in Stockholm, Sweden. "Beyond The Portraits", presents new work by the acclaimed Norwegian artist. By punching holes in large canvases, her own developed technique, Furunes produces motifs out of nothing - often faces of unknown people with a common background. A new catalogue will be published for this occasion. June 18 - August 31, 2014.
Read more

"Shadows", solo exhibition at Palazzo Fortuny in Venice, Italy, Anne-Karin Furunes had the opportunity to see the photo archives stored in the palace. Here, forgotten faces, freed from the oblivion of the past, are welcoming us in the space of the museum. Until July 14, 2014.
Read more
Lucy Glendinning "Feather Child III", 2011, mixed media, 124 x 32 x 24 cm
LUCY GLENDINNING
Glendinning is participating in this year's edition of the Borås International Sculpture Biennial 2014, Sweden. Her work "Feather Child (III, IV, V)" gives rise to a multiplicity of interpretations - reminiscent of the myth of Icarus, it reflects on today's technological opportunities for genetic manipulation for good, or for bad. Until September 14, 2014.
Read more
Centre d'art contemporary, Meymac - group exhibition July 5 - October 28, 2014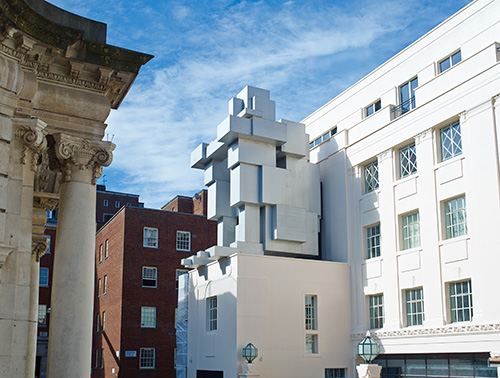 Antony Gormley, "ROOM", Beaumont Hotel, London, England, Photo: Stephen White
ANTONY GORMLEY
"I take the body as our primary habitat. ROOM contrasts a visible exterior of a body formed from large rectangular masses with an inner experience. The interior of ROOM is only 4 metres square but 10 metres high: close at body level, but lofty and open above. Shutters over the window provide total blackout and very subliminal levels of light allow me to sculpt darkness itself. My ambition for this work is that it should confront the monumental with the most personal, intimate experience." – Antony Gormley
"ROOM" was unveiled to the public on June 10. The sculpture, the interior of which is a hotel suite, is sited on the façade of London's new Beaumont Hotel. The Hotel will open in Autumn 2014.
The inaugural Mardalsfossen Art Project will open on June 20, 2014, with Antony Gormley's "ANOTHER TIME". The project questions the relevance of the sublime today as well as the relationship between space, time and nature. The sculpture will be on view for two months in the mist from the 705 meter tall waterfall which overlooks the spectacular Eikesdalen Lake, Norway. 20 June – 20 August 2014
Read more
Jan Håfström, "Revisit 2014 - Unvergessen (Graf Spee III)", 2014, mixed media, Photo: Wanås Konst 2014
JAN HÅFSTRÖM
Group exhibition "No Man Is an Island" at Artipelag in Stockholm, Sweden, enlists attempts to elaborate on the image of the archipelago with the point of departure in concepts such as class, gender and identity. Jan Håfström is showing a new work, "Grabbaum", inspired by author Carl Jonas Love Almqvist and his thoughts of the mystical island from which all life emanates. Until 28 September 2014.
Read more
For the new season at Wanås Konst Sculpture Park, Sweden -"DANCE SCULPTURE!" Håfström has reinstalled the installation "Revisit 2014 - Unvergessen (Graf Spee III)"from 2007. A starting point for this work is the German pocket battle ship Admiral Graf Spee, which was scuttled in 1939 outside Uruguay. Until November 2, 2014.
Read more

Solo exhibition "The man from Morristown" at Saltarvet, Fiskebäckskil, Sweden. July 5 – August 10, 2014.
Read more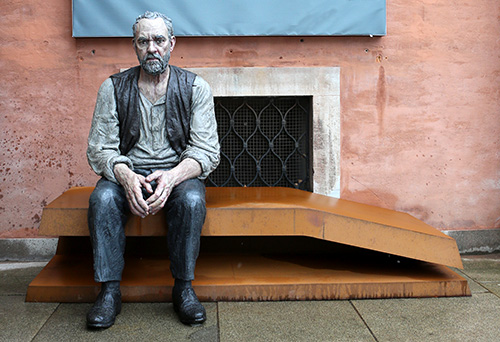 Sean Henry, "Seated Man", 2011, bronze, exterior paint, corten steel, 237 x 120 x 49 cm
SEAN HENRY
"Seated Man" - a larger-than-life size figure resting on a tapered steel bench, is now installed and can be seen in Varberg, Sweden.

Solo exhibition, "Sleepers", at LKFF Art & Sculpture Projects, Brussels. Until July 12, 2014.
Read more
Meta Isæus-Berlin, "Smygkuvning (Sneak Suppression)", 2012, mixed media
META ISÆUS-BERLIN
A new painting "A Room of One's Own" and an early installation "What Memory Selects" by Isæus-Berlin are included in "Home Sickness" a group exhibition at Norrköpings Konstmuseum. Until January 15, 2015.
Read more
Isæus-Berlin is also participating in this year's edition of the Borås International Sculpture Biennial 2014 with her installation "Smygkuvning" (Sneak Suppression). A black weight oscillates up and down on a spring through a hole in the middle of a table laid for two. The familiar situation of sitting down to dinner as a twosome is characterised by the silent overhanging threat, creating a kind of psychological drama. Until September 14.
Read more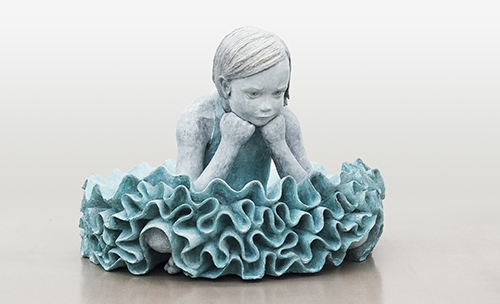 Assa Kauppi, "In search of a winner", 2013, bronze, 48 x 61 x 56 cm
ASSA KAUPPI
Solo exhibition at Eskiltuna Konstmuseum, Sweden. The extensive exhibition shows among others Kauppi's acclaimed sculpture group "The Race is Over", a bronze suite portraying seven children on the starting blocks a moment before a swim race. The childrens' peculiarities reveal their individual conditions – and their chances to win the race and to get through life. Until August 17, 2014
Read more
Competition is a recurring theme in the artistic narrative of Assa Kauppi. Her recent project "In search of a winner", featured above, is founded on a journey across the United States during which Kauppi closely documented beauty pageants for children. Showing at the Borås International Sculpture Biennial 2014. Until September 14, 2014
Read more
Katrin Korfmann, "Wen Ji Qi Wu", 2014, photographic print, 270 x 385 cm
KATRIN KORFMANN
"Ensembles assembled: in full color", solo exhibition and book launch at Onomatopee, Eindhoven, The Netherlands. June 27 - July 20, 2014
Read more
Group exhibition "Aperture Summer Open" Aperture Foundation, New York.
July 17 - August 14, 2014
Read more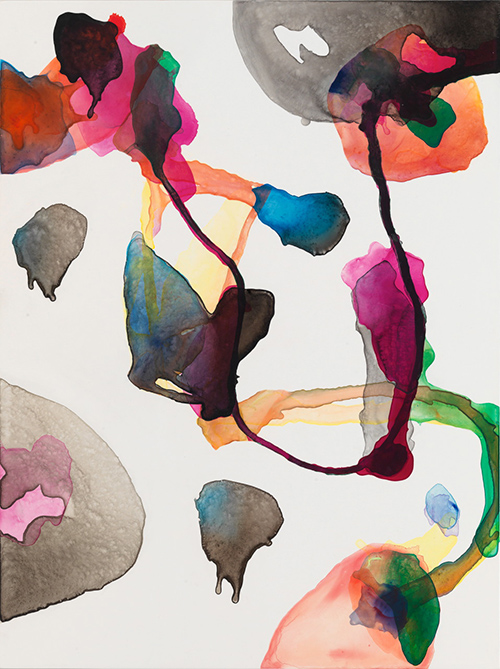 Bernd Koberling, "Memories of Water: Autumn 2010 IX", 2010, acrylic on wood, 70 x 52,5 cm
BERND KOBERLING
Solo exhibition "Memories of Water", shows watercolours by Koberling at Nässjö Konsthall, Sweden. June 14 - August 23, 2014.
Read more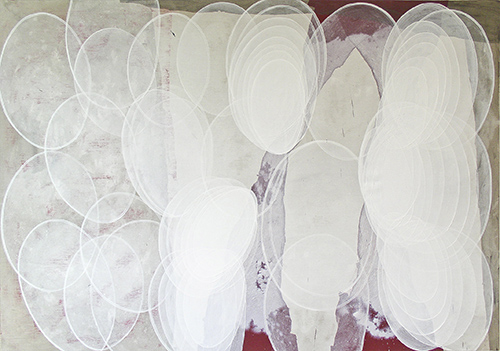 Ian McKeever, "Assembly Painting", 2006-2008, oil and acrylic on linen, 190 x 270 cm
IAN MCKEEVER
Solo exhibition at HackelBury Fine Art, London. For the first time since McKeever's mid-career retrospective at the Whitechapel Art Gallery in 1990 the exhibition presents works from the earliest phase of his career. A rare opportunity to be fully immersed in the dynamic first two decades of a long and distinguished career. Until September 27, 2014.
Read more
Under the title "Structures/Strukturen - British and German Painting in Dialogue" McKeever together with seven German and British artists are presented with 35 key works at Kunsthalle Wilhelmshaven, Germany. Until August 24, 2014.
Read more
McKeever is also participating in Marian Goodman Gallery's summer exhibition "Some Artists' Artists" in New York with his monumental and meditative work "Assembly Painting", featured above. June 26 - August 22, 2014
Read more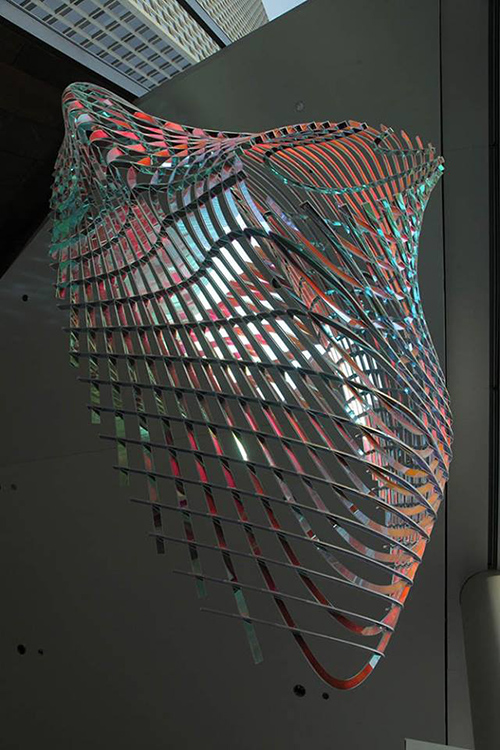 Alyson Shotz, "Quaternion", 2014, mixed media, 288 x 518 x 178 cm. Photo: courtesy of Fourth Church
ALYSON SHOTZ
"Quaternion", a major permanent installation that measures nearly 17 feet across is now installed at The Fourth Presbyterian Church in Chicago, Illinois. Mathematics and physics fascinates and inspires Shotz art. "Quaternion" is entitled after the mathematical term applied to mechanics in three-dimensional space.
Read more
Group exhibition, "Summer Outdoor Installation", The deCordova Sculpture Park and Museum, Lincoln. June 03 - August 31, 2014.
Read more

Solo exhibition, "Alyson Shotz: Interval", Tspace, New York. Opens July 19, 2014
Read more
Gabi Trinkaus, "Seemingly familiar", 2013, c-print
GABI TRINKAUS
Installed in the Court Yard of the National Museum and the Museum of History in Sarajevo, Bosnia and Herzegovina is a large scale outdoor public sculpture and exhibition platform called Outsourcing to Sarajevo 2014 or O2S14 by the American artist Alexander Viscio who has been selected by the Federal Chancellery of Österreich, for the 2014 Centennial. Gabi Trinkaus and 13 other international artists will have their work wall papered onto the walls and floor of this temporary installation. June 28, 2014.
Read more
Solo exhibition "Paradise with a Limp" at Claire Oliver Gallery, New York. Until June 24, 2014.
Read more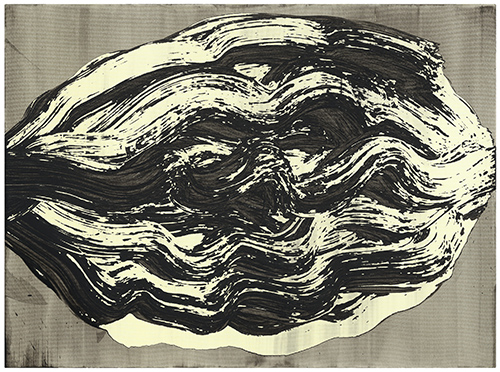 Tatjana Valsang, "KAMM", 2014, Acrylic on canvas
TATJANA VALSANG
Recent work by Tatjana Valsang is on show at Gallery Alessandro Bagnai, Italy. Until September 24, 2014.
Read more
This summer we welcome you to Umeå and our summer exhibition New Dimensions, up until August 22. A group exhibition featuring contemporary sculptures by seven Swedish female artists who usually work in two dimensional form. New Dimensions is a collaboration with Umeå2014. Our Stockholm gallery is closed during summer, but we hope to see you again in the fall - beginning with the opening of Antony Gormley's solo exhibition MEET opening August 21, at 5-8pm.

We hope you have a great summer ahead! Here is a selection of current news about some of our artists, both in and outside of Sweden.
Greetings from Galleri Andersson/Sandström!